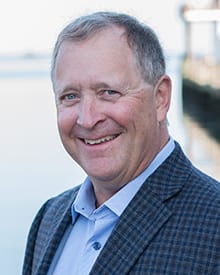 Mark Treat
Chief Strategy Officer
AKA "The Problem Solver"
Mark is the Chief Strategy Officer, responsible for sales and strategic development.  Mark is the founder of Nalari Health LLC, acquired by Upward Health in 2017.
Prior to founding Nalari Health, Mark led a strategic solutions group at SAIC, where he was responsible for the inception, solution design, planning and contracting for new programs. Prior to SAIC, Mark co-founded a bioinformatics company, co-founded a cell-based screening company, and supported the Johns Hopkins Center for Computer Based Surgical Systems.  He is a nationally recognized expert in business process management (BPM) and currently serves as an Assistant Professor of the Practice of Health Services, Policy and Practices at the Brown University School of Public Health.  Mark is a graduate of Babson College.
When Mark isn't busy finding solutions for problems that haven't even happened yet, he can be found on a sailboat on the water.  Mark is an avid reader, and when on land, can be found on his bike exploring biking trails.  Mark is also the proud owner of his beloved dog Cutter, who has since been embraced as the office dog for Upward Health.  Cutter is also known to be very good at solving problems.