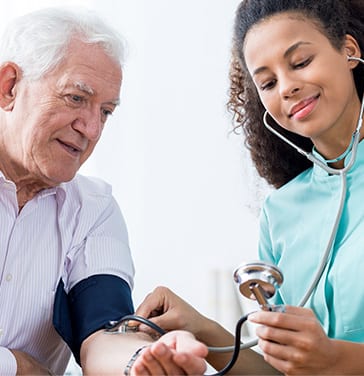 Innovative Care Solutions
Our contracted providers use real-time audio/video technology to virtually deliver care to patients in their homes, with the hands-on assistance of Upward Health Care Specialists. Our Care Specialists can assist with taking vital signs and using medical devices to help with diagnosis and treatment plans. We have providers across a range of specialties who work with us on whatever schedule suits them, delivering care in the state where they currently practice or in other states around the country.
Partner With Us
We collaborate with in-network providers to deliver excellent outpatient and inpatient care to our members. By accompanying members to their appointments, we decrease no-show rates and are able to help members understand and follow through with treatment plans. In outpatient situations we communicate medical histories and help transition members back into the community and adhere to discharge plans. We also give in-home assistance to patients when providers are not available and share the information so all providers can stay up-to-date.
""

I didn't understand why a Facilitated Virtual Care visit was so special. Then I did one. The Care Specialist transfers their relationship of safety and trust with the patient to me so it feels like I have a long-standing relationship with them. Amazing!

""

I never performed a virtual care visit before. But then I did one and it was easier than I thought. It gave me a chance to see a patient whose work schedule prevented him from coming to visit me in the office. So, I saw him virtually during his lunch break.

""

The presence of a Care Specialist is critical to follow up of my Facilitated Virtual Care visits. The only reason I'm confident patients will take the medication I prescribe and follow the rest of my treatment plan is because of the Care Specialist relationship."