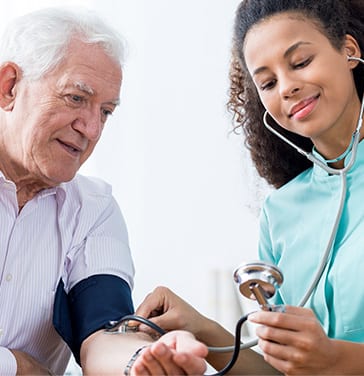 Upward Health serves patients throughout the community, so our "offices" are anywhere a patient calls home. Our staff consists of primary medical and behavioral care clinicians, such as physicians, mid-levels, nurses and social workers – as well as highly trained community health workers who are in constant contact with patients. Beyond medical supports, we also intervene to solve for social determinants such as food insecurity, social isolation, housing needs, transportation and more. This comprehensive program delivers home-based care to complex patients and dramatically improves their well-being through speed and access to care.
We deeply value our patients' relationships with other providers, and we will never interfere with them.
The key to our success is the relationship we develop with other providers as we all seek the best for each patient.
Our provider partners enjoy:
Assurance that patients understand and follow the plan of care.
Reduction of no-shows as we help patients with scheduling and transportation.
A flow of updates about patients' needs and activities.
If desired, ability to partner with us to conduct facilitated virtual care appointments.
We appreciate our external provider partners! If you would like to learn more about us, please contact us at: .
""

I didn't understand why a Facilitated Virtual Care visit was so special. Then I did one. The Care Specialist transfers their relationship of safety and trust with the patient to me so it feels like I have a long-standing relationship with them. Amazing!

""

I never performed a virtual care visit before. But then I did one and it was easier than I thought. It gave me a chance to see a patient whose work schedule prevented him from coming to visit me in the office. So, I saw him virtually during his lunch break.

""

The presence of a Care Specialist is critical to follow-up of my Facilitated Virtual Care visits. The only reason I'm confident patients will take the medication I prescribe and follow the rest of my treatment plan is because of the Care Specialist relationship."
Facilitated Virtual Care
Our provider partners are often able to use real-time audio/video technology to remotely deliver care in patients' homes – all with the hands-on assistance of Upward Health Care Specialists. Our Care Specialists can also assist by taking vital signs and using medical devices to help with diagnosis and treatment plans. We have providers across a range of specialties who work with us on whatever schedule suits them, delivering care in the state where they currently practice, or even in other states through our Facilitated Virtual Care program.
Contact Us