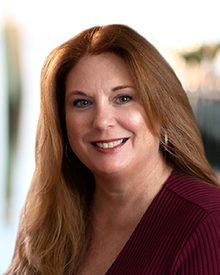 Jennifer L. Currao, SPHR, SHRM-SCP
Chief Human Resources Officer
& Chief of Staff
AKA "The Culture Evangelist"
Jen is the Chief HR Officer & Chief of Staff, responsible for all employee related activity and culture development.  She is passionate about taking care of people, and has spent most of her 25 year career focused on change management, leadership development and creating dynamic workplace cultures.
Prior to joining Upward Health, Jen served as the CHRO for Gersh Management, a company dedicated to serving individuals on the autism spectrum, where she led a team of HR professionals for multiple business units.  Prior to Gersh, Jen served as CHRO for ArroHealth, where she was responsible for ArroHealth's strategic and functional human resources initiatives.  At Arro, Jen led the sourcing, hiring and onboarding activities for thousands of employees in one of the nation's fastest growing healthcare firms. Prior to joining ArroHealth, Jen held senior HR management positions in the healthcare and IT industries, including Essinital Enterprise Solutions, Inc. and Eclipsys, and has spent the majority of her career in privately held companies, growing startups from 15 to 350 employees as well as transforming the culture of organizations with over 1,500 employees.  Jen currently serves as an Executive Coach to many of her former CEOs and holds both a Senior Professional in Human Resources certification from HRCI and a Senior Certified Professional certification from SHRM.  Jen also serves as Executive Director of Shoulder to Shoulder.
When Jen isn't spending time taking care of everyone else, she can be found… still taking care of everyone else, but mostly her husband and her 12 year old son, and enthusiastically spends most of her free time at the baseball field watching her son play.  Jen is an avid sports fan, having an unconditional and unfortunate love for both the NY Jets and the NY Mets.  Jen survives her sports seasons by listening to 1980's hair bands and enjoying really good wine.